OUR
NEWS
Next >
1
2
3
4
5
6
< previous
Yusata exhibiting at INDIA SOFT 2018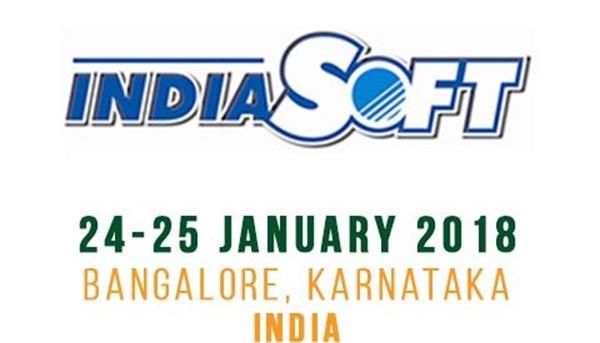 India's premier international IT exposition, INDIA IT SHOW is organized by Electronics and Computer Software Export Promotion Council (ESC) with the support of the Department of Commerce, Ministry of Commerce & Industry, Government of India.
Indiasoft 2018 will facilitate building of competencies by providing Indian participants an in-depth understanding about technology, market development and demand dynamics which assists in strengthening their foothold globally. The 16th high tech edition of Indiasoft will be visited by global IT fraternity including Latin America, Africa, CIS, ASEAN, SAARC, North America, Europe, Japan, Middle East, Japan, Hong Kong, Korea, etc.
Yusata will be promoting telematics solution, which deals with interacting to your automotive to provide details of Movement, speed, location, tracking, DOT logs, Proof of Delivery, Online Dispatch Management, Geo Fence management, etc.
Yusata participated at MESSE NAGOYA (Japan)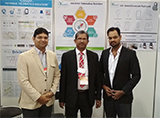 Participation in Messe Nagoya at Japan, Port Messe Nagoya had been an interesting exhibition to showcase Telematics Solution. MESSE NAGOYA was a four day event held In Japan from 8th November to 11th November 2017 at the Nagoya Port Messe in Nagoya, Japan. This event showcased huge variety of innovative products of exhibitors coming from across the globe, thus, giving an opportunity to experience specialty products, technologies and services in one venue.
During the exhibition, Telematics products and services were showcased to the visitors and breakthrough concepts of using Smart Bluetooth Padlock - YKe and IOT to achieve better productivity and profitability for the organization as well as individual entrepreneurs.
We had received warm responses from the visitors, who were interested in taking up solutions for their need; it has been fortunate to receive interest from various companies who were interested to provide Proof of Concept projects for their work.
Yusata awarded the IOCL Mumbai VTS Tender (Maharashtra)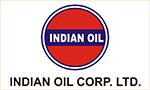 Indian Oil Corporation Limited (IOCL) floated a tender and, invited electronic bid from technically and commercially competent and experienced service providers for the provisioning of vehicle tracking system (VTS) with end to end solution.
Yusata Infotech, participated and won the most awaited tender, IOCL Maharashtra, as a lead bidder. It is a big achievement as well as an opportunity for Yusata to have a great start in the public sector organization.
Yusata will be providing them with Vehicle Tracking System (VTS) solution along with determination of Round Trip Distance (RTD) and verification by Geo-Databse creation for Route Mapping. The solution will provide real time knowledge of its fleets, Engine status, delivery status, driving behavior, fuel efficiency, various reporting formats and many more. The solution is truly beneficial and plays a quintessential role in the fleet management.
Messe Nagoya 2017 - Visit Our Booth Number 3D-224-3 At Japan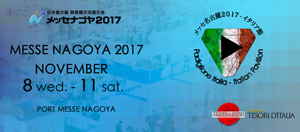 MESSE NAGOYA is a comprehensive international exhibition that cuts across industrial and business boundaries to get the word out broadly both within Japan and overseas on the products and services of our exhibitors, while also striving to help them expand sales channels and enhance personal connections.
Messe Nagoya marks 12th year and is an opportunity for Yusata to display all its speciality products, technologies and services in one venue, and expanding sales channels and building personal connections.
We invite you to visit our booth no. 3D-224-3 at Port Messe Nagoya. Yusata will be promoting its innovative solutions related to Telematics and IOT domain majorly.
Yusata Participated At GITEX Technology Week In Dubai From 8 Oct-12 Oct, 2017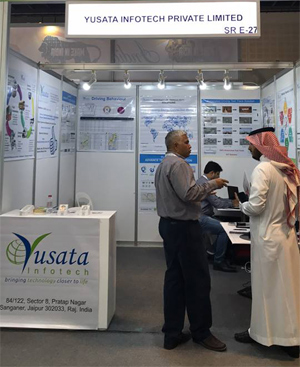 We, Yusata Infotech, participated in GITEX Technology week, from 8 Oct-12 Oct, 2017 with a booth # SR-E 27, and had visitors from all over the world. During the event, we had majority visitors from Middle East countries and inquiries for the innovative Smart Bluetooth padlock, YKe. Some interesting discussions held with visitors from Dubai, Middle East, Jordan, Iran and India.
GITEX Show is one of the leading Global IT Exhibition held every year in Dubai. GITEX Technology week has been a good PR activity for Yusata as GITEX Technology week has always been a game-changing event, being the world's fastest growing technology hub. Yusata show-cased products and solutions related to Telematics solution and IOT domain, majorly ELD solution, Video Analytics, and Smart Bluetooth Padlock, to support multiple industries, with major focus on transport and logistics industry.
Our company's strength is providing solutions in the different sectors like Transportation, Delivery and Dispatch, Service, Courier, Education, and Government Sector.
The event has been a good opportunity for Yusata Infotech to experience and show-case the collection of different services of Yusata. We wish to participate in the event again and congratulate the organizer, exhibitors and visitors a successful year ahead.
Placement/Recruitment Drive in Odisha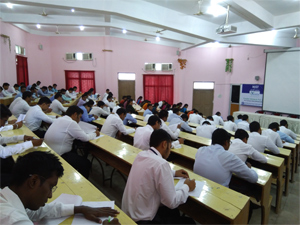 We have been invited by NIIS Bhubaneswar, NIST Berhampur, Trident Bhubaneswar, IMIT Cuttack, OUAT Bhubaneswar, CIME Bhubaneswar for the 3rd consecutive year for their campus placement drive; we appreciate the quality and talent in students of these institutes. These institutions provides the best education to their students with the market requirement approach, allowing students be prepared for challenges in their initial career years.
These Institution's Management and faculty groom students with theoretical and subject knowledge, Yusata hire fresh talents and provide industry training to develop them as an asset to the organization.
Yusata has been hiring a pool of students every year from the institutions and these students have proven their skills and capabilities as per the projects given to them.
We thank NIIS, NIST, Trident, IMIT, OUAT, CIME Institutions for inviting us for Campus Recruitment Drive.
Hingonia App Launched By Smt. Vasundhara Raje, Hon.Chief Minister, Rajasthan State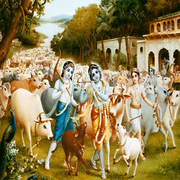 Recently Smt. Vasundhra Raje, Chief Minister of Rajasthan State had launched Hingonia App. Chief Minister visited Hingonia Cow Rehabilitation Centre where she launched Hingonia Krishna Balaram Gaushala Mobile app, powered by Yusata, which is especially designed to increase presence and attract more citizens to share helping hands in managing Cow shelter.
Hingonia Gaushala mobile app is available for both Android as well as iOS mobile users and can be downloaded from links:-


A Memorandum of Understanding was signed between Jaipur Municipal Corporation and Hare Krishna Movement for management of this centre for 19 years on the same day. Smt Vasundhara Raje, has also granted 10 Crore rupees for the welfare of foundation.
"Hingonia Gaushala is a place for Shelter and care for Cows where steps are taken to improve the conditions of cows. Government of Rajasthan and Jaipur Nagar Nigam handed over the management of Hingonia Cattle Rehabilitation Center managed by Hare Krishna Movement, an affiliated organization of Akshya Patra foundation. Hingonia shelter now takes better care of cows with improved and technically facilitated rehabilitation center.
The mobile app publishes facts about calf nutrition, cattle diseases & cure, vaccination & their schedules, details about rehabilitation center and technologies used to cure & save cows.
Using App - everyone get an update about the Gaushala in terms of facilities planned and provided to cows."